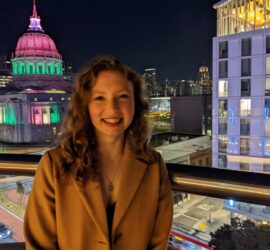 XASS: Elli – this is going to be a fun interview! Let's start simply: where are you from?
Elli: I am from Bandon, a small town on the Oregon coast. I love it. It's so beautiful!
XASS: Have you declared a major yet?
Elli: No, I haven't. I'm interested in English, and I'm taking a political philosophy class right now that I really, really enjoy, so I might do something with that. I want my profession to impact others—to do good in the world, make people's lives a little better, and bring a smile to their faces. I had this whole conversation with my mom before coming to Stanford—I was sitting in the kitchen, and I started talking about how much I want to help people, and I started crying. Looking back, it was so overdramatic! But it's something I've always felt compelled to do. I don't know exactly what it will look like for me yet, but I'll keep exploring my interests and working hard, trusting that God will lead the way.
XASS: I know that there was a big service component to how your parents structured their lives. Can you talk about that and what it was like to grow up there?
Elli: Yeah! My parents owned a residential care facility, and my house was attached to it, which was really amazing. It was such a great place to grow up. The facility cared for geriatrics with Alzheimers, dementia, schizophrenia, bipolar disorder, and more. My mom helped make the last stage of their life the best that it could be. It was so inspiring to walk through the hallways and see these people peacefully in their rooms. It would shocked me because you'd think in their conditions they wouldn't be so happy—their family hardly ever visited them, they could never really leave the facility, let alone move much at all—their life was so limited. But my mom took such good care of them. Her heart was in it. She loved the residents and treated them as individuals, not just patients. She transformed many lives with that business. It was, and still is, so inspiring.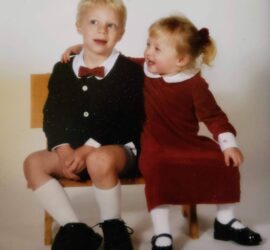 XASS: Do you have any siblings?
Elli: I have one brother. His name is Alexander, and he is 20 years old, turning 21 this month. Exciting! We're really close. I love him!
XASS: So why Stanford?
Elli: I really, really liked the application process. When writing the essays, I felt like they were really trying to get to know me as an individual, which I appreciated. Other colleges would say, "Yeah we're looking at you from a holistic standpoint, but all we want is your academic transcript and one essay about yourself. One essay—that's all we need to know about your personality." What!? That's not holistic! There's so much more to people than the classes they took, the grades they got, and their extracurriculars. I felt like Stanford truly cared how their students were as individuals, not just how smart or accomplished they were. That gave me a good sense of the community. I knew I'd be surrounded by students who were equally invested in being a good person as they were in their professional career.
And I like the location, it was just far enough away from home to be an adventure, but close enough to my family. It also has good weather. And red is my favorite color!
XASS: So has Stanford been a good experience for your faith, a neutral experience, or a negative experience?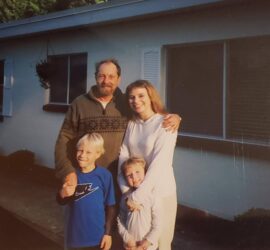 Elli: It has been wonderful—so great. I've grown so close to God since being here. I grew up in a Catholic household. I guess you could say I'm culturally Catholic. We went to church on Christmas, Easter and a few days in-between whenever we got up early enough. In high school I started asking questions about my faith and growing more in it. I realized that Catholicism wasn't really the thing for me. I was kind of alone in my faith for a few years. I think was good for me to establish my own personal relationship with God. Then coming to Stanford and joining a community like Chi Alpha… wow. It's amazing! Chi Alpha specifically is one of the reasons why I'm like, "Okay, this is where God wants me to be." I am growing so much closer to Him. Stanford is much, much more than I expected—and my expectations for college were really high.
XASS: How did you first find Chi Alpha?
Elli: When exploring colleges, I was looking for a well-established religious group. I searched "Stanford Christian organizations," and the first one that came up was Chi Alpha. This was back in… gosh this was before summer… this was before I even graduated high school. I then attended one of your Zooms, and I was like, "These people… these people are it." I remember talking to Alex Hou in a breakout room, and he was giving me all this information about Stanford's student government. I also met Deborah on Zoom. I loved meeting her!! I went to a Bible study with Elijah, or maybe it was just a Christian meetup? I don't remember exactly, but I could tell that the community here was abundant with people who love God. I thought, "this is it." I committed to Stanford shortly after.
XASS: Cool! Do you have a favorite Bible verse or passage?
Elli: Wow. How do you just choose one? I would say my favorite changes based on my stage of life. When I first started reading the Bible, I read the Gospel of John. I stumbled upon many verses that mention loving others. John 13:34 says "…love your neighbor, as I have loved you," and John 15:12 says, "…love one another, as I have loved you," which is very similar. It touched me to hear how much of the Bible was about God's love for us, and how we should extend that love to others. Before ever reading the Bible, I was expecting to see all these laws and rules people had to follow—which, I followed already, but I didn't want to read about it. I didn't want to be forced to follow the rules, I just wanted to follow them. *laughing* When I finally opened the Bible and read about His love, it transformed my relationship with Him. So those are the verses I always fall back on. I love Him so much, and it's crazy to think He loves me more than I love Him. Like how is that possible? I mean of course it's possible: it's God! But it's insane—it's amazing. Whenever I talk to new believers or people exploring their faith, I'll tell them, "God loves you so, so, so much—it's crazy." I think a lot of people get lost in the world—they don't know what to follow, and they don't know where to place their value. Reminding them, or even introducing them to God and His love is so important.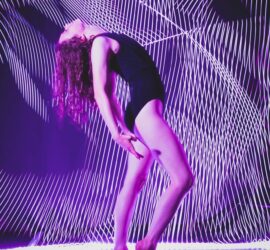 XASS: What are you into other than school? like What do you do that's not graded?
Elli: I dance! I've danced since I was three years old. I started off with ballet and tap, then in middle school I took on contemporary and jazz and eventually ballroom! Ballet and ballroom by far are my favorites. I've continued ballet here at Stanford, but it's kind of hard to do ballroom with Covid. Apart from my family and the great community I have at home, I'd say dancing ballroom every week is thing I miss most.
And I grew up on a small farm, so I loved caring for the animals and maintaining the grounds. I love being outside. I'd spend hours mowing the lawn with my earbuds in, blasting music and singing obnoxiously loud. I also love to hike and take long walks on the beaches in Bandon.
I really enjoy reading. If you have any book recommendations, please let me know. And I like to cook!
XASS: What cuisine do you specialize in?
Elli: I don't think I have a specific cuisine. I like to make a lot of chilis and stews, and I love making curry! That's probably my favorite. Pasta is always fun, especially with homemade pesto. Mexican food—beans, rice, burritos. Breakfast food is also fun—homemade coconut yogurt, granola, pancakes, poached eggs on avocado toast.
XASS: If I was to Google stalk you, is there anything surprising I would find?
Elli: You'd probably find a lot about dance. And then probably the Cranberry Court. Every year Bandon has a cranberry festival with a court of princesses, and they crown a queen. So you'd probably get something about that.
XASS: Were you the cranberry queen?
Elli: Yes, in 2020.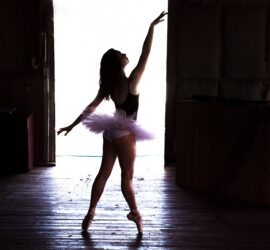 XASS: So recently.
Elli: Yeah! That was really fun. I was on a court with a group of girls who were, and still are, good friends of mine. It was great. We did a lot for the community, and I got to know a lot of business owners and help them through covid. It was really tough for local businesses. I was really glad to help.
XASS: That's really cool. Is there something which, if I knew you better, I would know to ask about?
Elli: My mom would probably tell you to ask me about Pig Latin. She loves that I can speak Pig Latin—which anyone can speak Pig Latin but it's like… I don't know. That makes her really excited.
XASS: Are you especially adept at Pig Latin?
Elli: I guess you could say that. I can kind of just rattle it off. My brother once asked me to sing a song in Pig Latin—it sounds really stupid because it adds an extra syllable, so it doesn't really work, but it's funny.
XASS: That's delightful. I think that brings us to the end of the interview, so we have the classic final spotlight series question which is: Elli, are you in a relationship?
Elli: No, no I'm not.
XASS: And is that a source of contentment for you, or is it something where you are hopeful for change soon?
Elli: I think both. I'm definitely content with where I'm at, but also I do want… in the far, far future…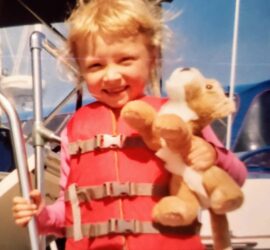 XASS: Careful guys – she's fired a shot across the bow. Step back!
Elli: *laughing* in the future I want to get married and have kids. So obviously dating leads to that. I trust God. He's got my life planned out. So I'm content with where I'm at, but I'm also open to change.
XASS: Thank you, Elli!