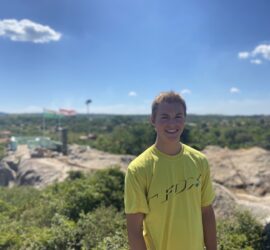 XASS: Wiley, thank you so much for joining me today! The audience should know that we're recording this during finals week. How are you holding up?
Wiley: I've got one final tomorrow and I feel good about it.
XASS: Outstanding! What are you doing over Christmas break?
Wiley: I'll hang out with my family and host some Christmas caroling with some friends back home in Paraguay.
XASS: That leads very naturally into the next topic. When people ask you where you're from, Wiley, how do you answer that question?
Wiley: Sometimes I'll say Virginia since that's where I grew up for the most part, other times I'll say Colombia since I spent most of my life there as a teenager.
XASS: And for Christmas this year you're going to Paraguay.
Wiley: Yeah. My dad works with the foreign service so we've bounced around a little bit. I've only lived in three different countries, though.
XASS: Do you know what you want to major in yet?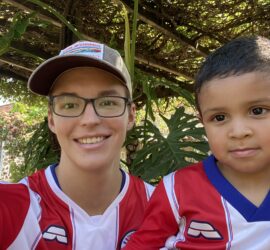 Wiley: I'll probably end up double majoring in piano performance and something else STEM related. I'm still figuring that out. My top choices are management science & engineering, computer science, and perhaps mathematics or AA.  This first quarter I've absolutely loved math. I might end up majoring in it just for the fun of it.
XASS: Math and music is a pretty primal pairing. That's all the way back to the ancient Greeks.
Wiley: People always say that! I've always loved math, but I'm not particularly good at it.
XASS: Why Stanford, Wiley?
Wiley: Well, I applied to five different schools and in the end my two top choices were Notre Dame and Stanford. It was tough to pick between those two, particularly because I knew Notre Dame was a Catholic school, and so if I went there I would be making friends and meeting people that are probably more closely aligned with my beliefs about Christianity and the Bible and Jesus. But ultimately I chose Stanford just because they are good at pretty much everything and I knew I could explore pretty much any field I wanted to. Which was something that I really wanted – I didn't apply to any piano conservatories or any music conservatories because I also wanted to have something STEM-related open to me. And I felt Stanford was the best place to pursue that.
XASS: This is the second time that piano has come up in this conversation. Talk to me about the role of piano in your life.
Wiley: Well, it's always been a big part of my life. I started playing when I was four years old, and it's one of the reasons I was homeschooled.  Studying from home gave me more time to practice.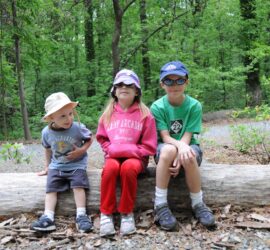 I've had a piano teacher for as long as I can remember. In Virginia I would go to piano competitions every other weekend, which was very intense. It's a very competitive atmosphere in Northern Virginia for musicians. When I left the States that all changed. Everything slowed down a little bit. But new opportunities opened up for me there – I studied with a new piano teacher, and got to perform with more orchestras than I would have had I stayed in the States.
XASS: I've heard rumors that you have actually won various awards or been recognized for your performances. Is there any truth to that?
Wiley: Well, there are many… Yeah. With lots of competitions come awards every once in a while. Some of them are small, really. In northern Virginia most young musicians like me who are in competitions every other week are bound to win a couple here and there. The awards that I'm more proud of are not just for piano. They tend to be more piano and community service.
XASS: Unpack that, if you don't mind.
Wiley: One of the things that my parents always encouraged me to do with piano was to find some people in need that I could benefit with my music, with my concerts. And so, whenever I would give a concert, even when I was little, I would raise support for a group in need. Students from our piano studio raised money for Jill's House, which is a home in McLean Bible Church for kids with special needs and their parents. And a few years later I went to Guatemala and gave a concert that raised support for Down Syndrome Foundation, and then in Colombia I started a small project to raise a scholarship fund for the sons and daughters of fallen Colombian police officers so they can go to school.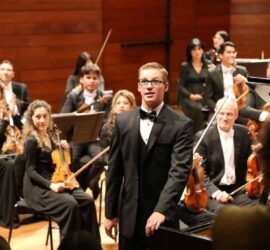 XASS: Outstanding! You mentioned earlier that you were drawn to Notre Dame because students there  maybe would have more similar faith to you. And then you mentioned McLean Bible Church. How were you raised religiously?
Wiley: For the most part, I was a non-denominational Christian. My mom and dad were both very strong Christians. I accepted Jesus in my heart when I was probably five or six and then again when I recommitted my life I was 11 or 12.  I'm so happy I've been able to find Chi Alpha at Stanford.  Chi Alpha has been a real blessing, the retreat in particular over fall was a milestone in my faith.
XASS: Really? That's so encouraging! How did you stumble upon XA in the first place?
Wiley: I was trying to remember who it was that initially invited me and I couldn't remember, but I had some friend who was going to Chi Alpha who invited me. I checked out a couple different groups on campus but ended up making the best friends in Chi Alpha so that's where I am.  Actually, the first talk I heard you give, you sold me on the retreat and I signed up that night!  Haven't looked back since.
XASS: Do you have a favorite verse or passage from the Bible?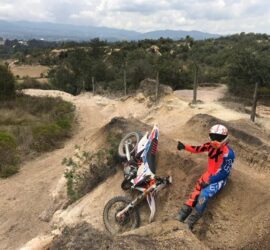 Wiley: I do! I've got two of them, really. The first one is my family's favorite verse – John 2:5, "Do whatever He tells you." This is from the story of Jesus changing water into wine at the wedding and His mother Mary tells the servants to just do whatever He tells you, and so that's our family's life verse you could say. And then my other favorite verse is Proverbs 3:6, "in all your ways acknowledge Him and He will make your paths straight." This has been instrumental for me at Stanford because I don't know what my paths are going to be. I don't know what I'm going to major in. I don't know where life will take me. This verse is comforting because I know that as long as I acknowledge God as my Lord and Savior and I'm willing to do whatever He tells me, He will guide my path.
XASS: Obviously your big passion outside of traditional academics is piano performance. Do you have any other hobbies?
Wiley: I do, I have a few hobbies. I did a fair amount of sports over the years, never competitively but I've dabbled in water skiing, motocross, equestrian jumping, and a bit of golf and tennis.
XASS: Well, motocross? Is that like obstacle courses and stuff?
Wiley:  Yeah! Enduro motocross is like going over rocks, hills, dirt, and mud – I never tried flips or jumps or anything.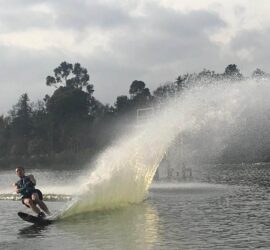 XASS: That sounds amazing. Then I've just got one more big question for you. Are you in a romantic relationship?
Wiley: No, I'm not.
XASS: And is that a source of contentment in your life or are you thinking you would like to see that develop?
Wiley: I would say both, actually. I would love to see it develop but I'm also content where I am right now. Everything is in God's hands.