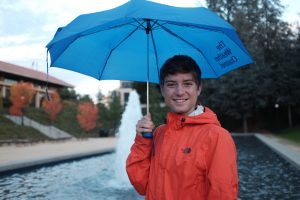 XASS: Where are you from? What year are you? What are you majoring in?
Nate: I'm a senior from Boise, Idaho and I'm majoring in environmental systems engineering, focusing on oceanography.
XASS: You don't come from a maritime state. Why the interest in the ocean?
Nate: It's because the ocean is a fragile place that's enduring a lot of changes, and from a scientific and policy perspective, oceanography is not a very well-developed field. So there seemed to be a lot of possibilities. In environmental science … yeah, this is the frontier. I was also really into a competition called the National Ocean Sciences Bowl and did research in oceanography during high school, at which point I was hooked.
XASS: Do you know what you intend to do with it yet?
Nate: So I'm interested in studying climate change. The ocean and atmosphere are coupled, so even though the atmosphere gets most of the attention, I am interested in how the ocean is affected by and affects the changing climate. I'm not entirely sure if I want to just study chemical oceanography or if I want to work on management, like working on a project to restore sea grass or something. But in any case, I want to do something that's making a difference.
XASS: Okay. Were you raised in church?
Nate: Yes.
XASS: Was believing in climate change okay in your church?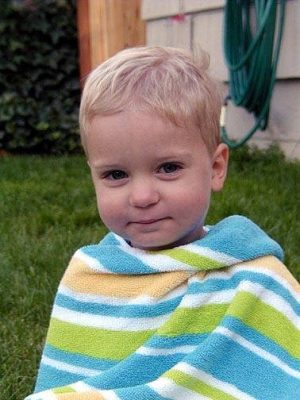 Nate: Yeah. I think like many churches in the country, the church that I grew up in had zero mention of climate change or evolution or really anything scientific, and that was something that actually really frustrated me because for my faith growing up, science was a really big part of it.
I grew up reading Lee Strobel's books for a pretty young age. Like The Case for Creation, The Case for Creator, The Case for Christ. And The Case for Creator was a really impactful book to me because it outlined the scientific case for a God. It basically said when you look at scientific fields, from biology and physics, to neuroscience, all of them have top scientists who say, "My faith is bolstered by science."
XASS: How does your faith relate to your interest in oceanography and climate change?
Nate: The oceanography research I mentioned earlier was about studying prehistoric climate change using ocean sediments. My favorite presentation I've ever done was when I shared this research at my church. I called it "Climate Change and Christianity". The presentation had statistics from my research showing this big release of carbon into the atmosphere and the associated impacts – warming, ocean acidification, die-offs. And I was like, that's what's starting to happen today. It also had all these Bible verses, and I just remember thinking as I was giving the presentation, "this should happen more!" I think my faith plays a huge part in my passion for the environment. I was actually just reading an article by Elise Miller about that.
XASS: The one in Vox Clara?
Nate: Yeah!
XASS: Would you say that your experience at Stanford has strengthened your faith? Weakened your faith? Or has it been independent of your faith?
Nate: Definitely strengthened. From day one, I remember going to reFARMation and then calling up my youth pastor right afterward and being like, "Hey there's this Christian community at Stanford that I found and they're believing the right things and there's cool people." And he was like, "Wow, praise God!" My prayer to find a community of believers who are passionate about Jesus has definitely been answered. And it's not just that I've found people that are Christian at Stanford. It's more than that. Especially when I was a freshman, the upperclassmen led me into a deeper understanding of the Holy Spirit and the Holy Spirit's power. And that's great!
XASS: Awesome. Now, what nonacademic hobbies and passions do you have?
Nate:  Anyone who knows me probably knows I talk about running a lot. I spent a lot of time during fall quarter training for and running a marathon. Now I'm just running to explore and get outside. I think running is also one of the greatest ways to connect to people.
I'm singing quite a bit too. I'm directing Testimony A Cappella, which is the Christian a cappella group at Stanford. I'm also involved in the outdoor community at Stanford. I'm a trip leader with the Outdoor Center, and I try to explore California on my own whenever possible.
XASS: All right. Do you have favorite Bible verse or passage?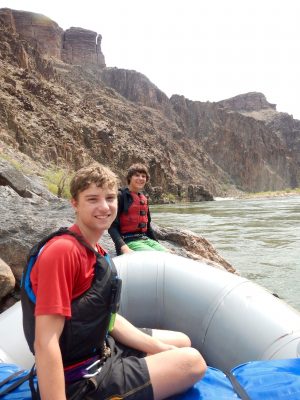 Nate: Yes. I love all of Philippians 4:4-8. But specifically 4:6-7 which says, "Do not be anxious about anything but in everything, with prayer and petition, present your requests to God. And the peace of the Lord, which transcends all understanding, will guard your hearts and minds in Christ Jesus."
XASS: That's good! If you had one piece of advice that you'd like to give to a Stanford student trying to think about faith and science, or specifically about Christianity and climate change, what would you say?
Nate: One, read some things about it because there have been thousands and thousands of pages written about this topic. I would recommend The Language of God, which was written by Francis Collins, who was the director of the Human Genome Project and is now the director of the National Institutes of Health. He gives a really compelling perspective. And the current edition of Vox Clara has great perspectives! Two, people often say that science and faith are in conflict. It's a much longer conversation, but I believe in the scientific consensus on a lot of things, and I believe the Bible, and I find those to be harmonious, not dissident.
For climate change in particular… we see in the very beginning of Genesis that God created the world. Then God created humankind and said to be fruitful and multiply, which we've done great at. But he also said to rule over the Earth, and that means we have to take care of God's creation. That's the part we're having difficulty with. To me, that passage in Genesis is the basis of Christian environmental ethics.
XASS: Okay. Then a final question. Are you in a relationship?
Nate:  Yes, I'm dating Analaura.
XASS: Thanks for your time, Nate!