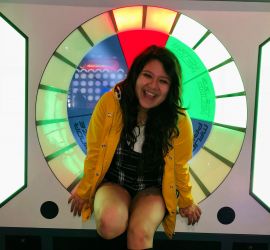 XASS: Let's start with the basics. What year are you? Where are you from?
Analaura: I am a sophomore right now. Where I'm from is always a tricky question to answer, because I was born in Merida, Yucatan in Mexico, but have lived in Whittier, California for nearly 14 years.
XASS: So, you moved around preschool age.
Analaura: I moved here when I was supposed to enter the second grade but because I didn't know any English I had to enroll in the first grade.
XASS: What brought your family to America?
Analaura: My dad lost his job. It was really hard for him to find another one, and one of his friends told him about the land of opportunity: America. So my dad came to the U.S., and was supposed to return to Mexico after 4 months, but he decided to stay because life was much easier here. Compared to the US, what we had in Mexico was nothing.
He wanted my mom, my brother and I to move to the US with him, but because my brother was 18 he decided to stay behind and attend university in Mexico. He had a dream to become an engineer and was going to pursue that. Coming here would have meant giving up on his future. My mom didn't know what to do because she didn't want to leave him behind, but in a selfless act he told her, "Mom, I don't want my sister to grow up without dad, and as his wife your place is with him." And so we moved. The plan was always to go back, but years passed and… well, I'm still here.
XASS: So why Stanford?
Analaura: The funny, quirky response is because Gabriella Montez from High School Musical is my role model, and she went to Stanford. But the real response is my brother. I wanted his sacrifice to mean something, and getting into Stanford — one of the best schools in the country — made me think that's how I'd honor that sacrifice. It was always to make my brother proud. However, when I actually got in I had a huge case of impostor syndrome. I constantly thought, "Why am I here? I don't deserve to be here compared to those who got nearly perfect ACT and SAT scores."
Now though, I'm starting to realize I'm here solely because of God and His purpose for my life, which I didn't grasp until recently. Even if I had the perfect scores I always thought I needed, the truth is that if God didn't want me to be here then I wouldn't be.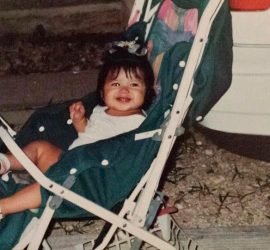 XASS: And was your family a churchgoing family? What kind of church were you raised in?
Analaura: My dad was a Jehovah's Witness, so he knew a lot about the Bible, however he distanced himself from the faith. My mom hopped around from religion to religion, mostly because she wanted to learn about different religions. What ended up happening is that when she realized that God is the one and only God, she grasped onto that faith and she put it in my heart as soon as I was born. Not to mention that when I was in my mother's womb my mom was literally touched by God so after that, well… it was all the proof she needed. Nevertheless, because my dad didn't go to church, she didn't as well and I naturally followed in their footsteps. We're not necessarily a churchgoing family for many different reasons, but my mom has always, always told me that God promised both of us that everything will be okay. Because of that promise, I'm very conscious He's always been with me.
XASS: How'd you get plugged into Chi Alpha then?
Analaura: A man called Nathaniel. I was lost, afraid, overwhelmed looking for Old Union (which I happened to be right next to). I heard someone yell, "Hey, freshman!" And I turned around and saw that man [at this point in the interview she pointed at Nathaniel across the room]. I just walked up to him at the Chi Alpha table,a little scared and intimidated, but I could immediately tell he was pure light. He talked to me about Chi Alpha, and I fell in love with it. As I got more involved I learned that it's not just a group of people that are here to listen to sermons and make their own lives better, but it's a group of people who want to make a difference in other people's lives, and want to talk to the world about God. I wanted to do that so badly as well. We're Christ's Ambassadors and I immediately thought, "That's what I want to do. I want to be an ambassador for God and for His kingdom." It just drew me in immediately and I didn't have to look anywhere else. I'd prayed a lot that God would lead me to a good Christian community and God provided, like He always does. I hope to one day be that same light Nathaniel was in my life to another freshman.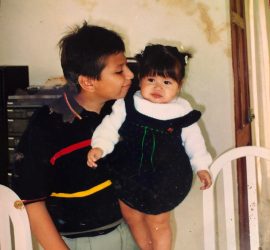 XASS: So how has Stanford been for your faith?
Analaura: That's an interesting question. I'd say it's been good, but it's been good because it's been extremely difficult. When I was a freshman I struggled a lot with "FOMO" or the fear of missing out. It didn't help that the people around me were definitely not in tune with the gospel. For a long time I actually got consumed by that world. I'd come to Chi Alpha, but it wouldn't be consistent, and representing God became secondary. I didn't stop believing in God, but at one point I stopped believing He cared about me because I thought I wasn't worth the time.
I went through a very difficult spring quarter, so difficult I took a really hard blow to the point where I was just remember crying and praying in my room. I told God I was coming to Him with nothing. I didn't know where I was or where my life would go, but I promised to get to know Him and dedicate my life to Him fully. I knew that if I did that, He'd provide.
I've been faithful on my end, And He's definitely been faithful on His because He's led me to so many different groups on campus that have strengthened my faith. I was really interested in singing and my RoHo was in Counterpoint a cappella. I wanted to be in it more than anything.
However, I didn't get in, and was incredibly upset about it. A year later I'd find out God had something much better in mind for me: Testimony A Cappella. Auditioning was the best decision I've ever made, not to mention being on the worship team is just a blessing. Singing is when I feel closest to God, in part thanks to my mom. One of the things she'd tell me is that every time she sings, she just pictures God on His throne and she's singing to Him. That's what I also picture every single time. As long as I know that He's listening and that He's there, nothing else matters. There's power in prayer and I love talking to God, but honoring and praising Him through song is my favorite thing in the world.
XASS: Do you have any other non-academic passions or hobbies?
Analaura: I'm on the salsa team and enjoy it a lot. They're a cool group of people. I just enjoy social dancing in general. It's so lovely to connect with your partner, whoever they are.
I'm also a tutor for Spanish (That's a plug right there, schedule an appointment with me!) and I like it a lot. I don't see it as a job honestly, because it's just getting to know people and their stories. It's so fascinating. I just love talking to people.
What else? I really like reading, so I do that as much as I can. Recently I've been reading my Bible, which I didn't do before at all. Last quarter I wanted to start, but I was unsure where. At SALT God revealed to me I had to start with Daniel, and it's been a huge blessing.
XASS: That's tremendous. Oh – I almost forgot! What's your major?
Analaura: My major is international relations.
XASS: Why IR?
Analaura: I came in with political science, so I didn't change too much, But I knew I wanted to make a difference in the realm of politics or just socially not really through technology. At one point I really wanted to be an architect, but I realized that there's so much suffering in the world and decided to change my career and find something that will mean I get to directly work with people.
I took a class called Spanish 108, which is an immigration and asylum class. And, I mean, immigration's a huge part of my life because of my own status, but because of that class I learned about people seeking asylum to escape persecution and horrible things going on in their home countries. Working with those seeking asylum or really those who feel like they have absolutely nothing is something I feel like I'm really drawn to and called to do.
Like I said, I love people and getting to know them. Interestingly enough, part of my journey to get to international relations was that my freshman year I took so many language classes, because I like communicating with others. It always made my day when people spoke to me in Spanish because it reminds me of home, and I want to give that same feeling to others. I took Russian and Portuguese last year, my goal being to learn a language from each continent and then each region. I don't know if that'll happen, but with the grace of God it will. I want to work for the world. It's part of my purpose. International Relations will help me with that.
XASS: Do you have a favorite verse or passage?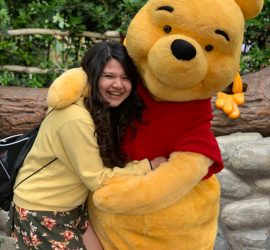 Analaura: My favorite passage… Oh, it changes all the time based on where I am in life. One that I'd say has been a constant truth recently is Psalm 91:4, "He will cover you with his feathers, and under his wings you will find refuge." I was drawn to it, weirdly enough, because one of the songs we sing in Testimony, is "Your Wings." I wanted to find the meaning behind the song and found Psalm 91, which I think inspired it. Then in San Marcos, Texas, I met this woman named Joyce, and she told Nate and I to read Psalm 91. She's also a reason as to why it became my favorite.
Another one, (I'm sorry, I'm indecisive) is Daniel 3: 17-18. "If we are thrown into the blazing furnace, the God we serve is able to deliver us from it, and he will deliver us from Your Majesty's hand. But even if he does not, we want you to know, Your Majesty, that we will not serve your gods or worship the image of gold you have set up." Shadrach, Meshach, and Abednego were talking about God and how He will provide for them. What interested me the most about that particular passage was the "even if" part. Even if He doesn't, they still stood firm in their belief. It is such an important prayer to keep in mind. It's easy to theologically know God will help because we know as Christians He's in control. But based on the situations we're in, it can be difficult to believe it. I use that passage as a reminder that maybe bad things happen in our lives, or in the lives of people we love, but we just have to remember that He will provide and He will always be there. Even if He doesn't answer your prayer in the way that you want it to, He's in control. And because of that everything will be okay.
XASS: Final question, the classic spotlight series question: Analaura, are you in a relationship?
Analaura: I am happily in a relationship with Nate.
XASS: All right. Analaura, thank you for your time!