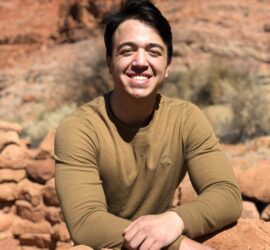 XASS: Brandon, thanks for joining me here. It's good to have you! Where are you from and what are you majoring in?
Brandon: I am from Knoxville, Tennessee and I am planning on majoring in economics with a minor in bio.
XASS: That's an odd combination. Why econ plus bio?
Brandon: So I originally came in as a bio major and then after a while I took a couple of econ classes and really loved the mathematical side. It was mathy without being too mathy and also had a practical side and I like all the options that are accessible to those with economics degrees that involve business and finance. So essentially I kind of switched over to economics and although I didn't want to be a doctor or do bio research for the rest of my life, I decided to continue learning about bio because it's still something I have a passion for.
XASS: Now you just said you're from Knoxville, but your family was in Maine before that, right?
Brandon: Yes. I was raised on the east coast. I lived there 20 years and I was raised right near Acadia National Park. It was this beautiful coastal small town of less than 2000 people so I've been accustomed to small town living my entire life.
XASS: There are a lot of great east coast schools – what brought you out west?
Brandon: It's funny. I believe I was a freshman in high school when I was first drawn to Stanford and I was originally attracted to the weather. And at that time I was still very much interested in science and the idea of studying science at Stanford definitely appealed to me. And, as I grew older I kind of learned more things about the school itself, both the academics and the plethora of clubs that they offer and even the music department. I was familiar with a couple of people on staff here and so as a violinist I was drawn to that department as well. So yeah… just the entire atmosphere and offering of classes and clubs and extracurriculars at Stanford definitely appealed to me. I applied early my senior year and I got in early action and yeah I came here.
XASS: Outstanding. You mentioned violin. Often when I meet someone who is raised playing an instrument they have a love-hate relationship with it. Where are you at? Do you love violin or do you just endure violin?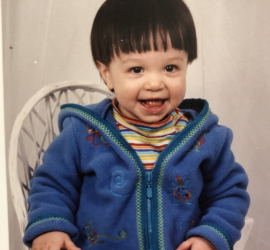 Brandon: I've actually been playing violin since the age of three, so I have a long history with it. I love it. It's definitely a huge part of me and I think is a large part of why I got into Stanford. I will believe that firmly forever. I think my experience playing in Carnegie Hall, and the bunch of orchestras and bunch of festivals that's what really sealed it. So it's just a very big part of my life and I love it. I've been playing less as I get older, but I do still very much keep music under my fingertips. I love playing to this day. I love collaborating with friends and musical projects and I'm still in the orchestra, still taking lessons.
XASS: All right now, how did you get connected to Chi Alpha?
Brandon: Hmm I have to think about that.
I think long story short, I was looking through a whole list of Stanford Christian campus organizations and I stumbled upon Chi Alpha and read the mission statement and came to an event. I had met a bunch of good friends in my class who were Christians coming in, we had met over the summer and a bunch of us were kind of interested in Chi Alpha and I kind of stuck with it. I immediately was drawn to the fact that there were life groups and just a lot of good community events and it seemed like one of the larger groups, and so yeah I just kind of stuck with it. Again, as I mentioned earlier a large part of it was the life group opportunity – the idea that a bunch of students could come together in small groups and study the Word and kind of foster good connections. It's definitely been a blessing in my life.
XASS: Sweet! Do you have a favorite verse or passage?
Brandon: Definitely! My life verse is Proverbs 3:5-6, "Trust in the Lord with all your heart lean not on your own understanding. In all your ways acknowledge Him and He will make your paths straight." Those two verses have definitely served to guide me throughout my entire life.
XASS: I know you did something unusual between high school and Stanford. Can you tell us about it?
Brandon: During my gap year which I took now two years ago I went to a Bible school in upstate New York called the Word of Life Bible Institute. Roughly 500 students attend every year, and the first year program that I attended is particularly focused on comprehensive full Bible study, and so we read the Bible a couple of times that year. We had guest speakers come and teach on a couple key books in the Bible so Romans, Acts, James, you have it, and they come for a week at a time teaching us and then we also have theology classes and hermeneutics classes and evangelism classes so it's just a really great place to ground yourself in your faith and learning about the Bible and learning about why you believe it. So that's why I went, to grow myself in the Word prior to coming to a secular institution. My mom actually went there when she was 16. She was incredibly young when she graduated high school and after her experience, she wanted her kids to go there as well, prior to attending college and so that was the plan for my entire life. I had a little bit of resistance senior year but I went and I feel like I'm a much stronger believer today and I can now use those tools, especially when it comes to discipleship and small group leading, from that Bible school and take it to Stanford.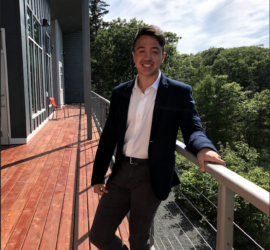 XASS: Sweet! You've already mentioned violin. Are there any other non academic hobbies or passions that you have?
Brandon: I am a swimmer. I used to swim throughout middle school and high school.
XASS: What stroke?
Brandon: I think my best strokes were backstroke and butterfly. And after high school I began weightlifting and so that's a hobby of mine. Aside from that, I love to hike. I've been hiking in the Palo Alto area already and that's also a big hobby of mine. I also love to bike. I'm from the east coast, so I love to sail – actually that's another passion of mine. And then just anything water sports such as kayaking, canoeing, and paddleboarding.
XASS: Now is there anything which if I knew you better I would think to ask about?
Brandon: I mean, I think one interesting fact about me as I just mentioned earlier is that I have played in Carnegie Hall. Before I played in high school with the National Youth Orchestra. That was one of my crowning moments in my violin career for sure. Just a dream come true. And then after I played Carnegie Hall, I actually had the amazing opportunity of going to Asia, so I played in Taipei in Taiwan, Shanghai and Beijing in China, and then Seoul and Daejeon in Korea. That was an incredible tour and my first time in Asia. Hopefully, I get to go back there one day. It was just a beautiful experience just sharing my music to the world. Actually, when I was playing in Beijing, they broadcast it for China, so that was an incredible experience and then they also broadcast it for Medici, which is one of the premier recording and concert companies for all of classical music, so really cool.
XASS: So is there a recording of you that I could buy somewhere? Or of the orchestra you're a part of?
Brandon: I actually just saw on YouTube there's a very old recording of me playing when I was a junior in high school. (editor's note: https://www.youtube.com/watch?v=lZkh0P4rUC0)
XASS: Awesome and the final question, that classic Spotlight Series question: Brandon are you in a relationship?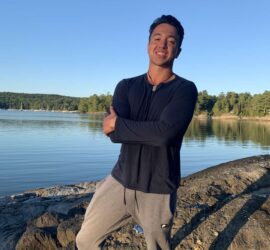 Brandon: Yes, I am. I am dating Becca, who is also a sophomore in Chi Alpha. We've been dating now for close to a year. A bunch of Christians in the class of '24 met up in Dallas right before school began because everything was virtual and we wanted to connect. I met her there and then we got to talking and then a month or two later we began dating virtually.
XASS: Brandon, thank you for your time. Have a good day!